Обзоры самых популярных моделей ноутбуков на видео.
Не ошибись с выбором своего элекронного помощника!
MSI GT70 (013US) - 3rd Generation Ivy Bridge i7-3610QM - Video Review by XOTIC PC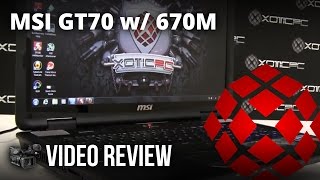 Похожие видео

Все видео пользователя:

XOTIC PC.

Просмотров:

51748

XOTIC PC's in depth video video of the new MSI GT70 (0NC-013US). Featuring Intel's new 3rd Generation Ivy Bridge Core i7-3610QM, nVIDIA GeForce GTX 670M (GDDR5 3.0GB) w/ Optimus Technology, 12GB 1600MHz RAM, 128GB SATA-II Solid State Hard Drive + 500GB 7200RPM Hard Drive, 8x DVD/CD Optical Drive, backlit SteelSeries Keyboard, Bigfoor Killer 2200 Gaming LAN. Video also features full thermal heat images.

More Info:

www.xoticpc.com // 1-877-289-9684 // [email protected]

Как тебе обзор? Напиши СПАСИБО, если понравился!
Обратная связь
Ноутбуки © 2018